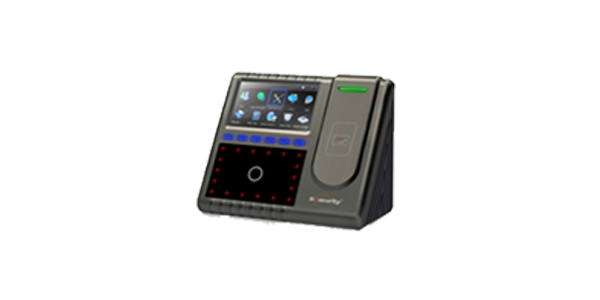 Features:
Integration of Facial, RFID, and Password
identification methods.
Elegant design according to the view of human
engineering
4.3'' TFT touch screen ,easy operation, fashionable
and simple interface.
6 user-defined function keys
Extendable scheduled doorbell.
Simple access control function.
Webserver management software via IE browser.
Infrared optical system enables user identification
in dark enviroment .
Optional built-in backup battery support extra 4
hours continuous operation if power cut.
Optional built-in wireless WIFI or GPRS
communication makes easier device installation
without wiring.
Memory:
256M flash, 64SDRAM
Camera:
High Definition Infrared Camera
Display:
4.3''TFT with touch screen
Storage Capacity:
Face:700
ID card :10,000
Logs:100,000
Back-up Battery:
2000 mAh
Communication:
TCP/IP, RS232/485
T&A functions:
Extendable Scheduled-bell, DLST,Self-Inquiry, Word Code, Short Message,T9 input,
BS 601 Face Recognition System – Page 1/2 Webserver
A&C function:
electric lock, door sensor, exit button, Wiegand output
Optional functions:
WiFi, GPRS, serial printer,Mifare/HID/iClass,backup battery
Verification Speed:
<=2sec
Operating Temperature:
0°C – 45°C
Operating Humidity:
20%-80%
Dimension:
193.6*165.2*86mm
Description:
Introducing multi-biometric identification time attendance product that will save you time and money.
It has integrated 630MHZ high speed Multi-Bio processor and high definition infrared camera which
enables users identification in the dark enviroment. Multi-model communications include RS232/485,
TCP/IP, optional WIFI or GPRS. Optional built-in 2000 mAh battery eliminates the trouble of power-cut.
Here are some advantages of BS Face 601:
-Identification methods: Facial, RFID, Password
-4.3'' TFT touch screen ,easy operation, fashionable and simple interface.
-High Definition Infrared Camera
-Optional functions: WiFi, GPRS, serial printer, Mifare/HID/iClass, backup battery