MyPBX U500 – IP-PBX for Your Business
The powerful alternative for enterprise
MyPBX U500 is intended for offices of up to 500 users, offering 16 phone ports for FXO, FXS, GSM, UMTS, ISDN BRI connectivity. It supports up to 80 concurrent calls. The connection to traditional network allows company to protect their previous investment while taking advantage of cost savings and the full complement of VoIP features and being able to nimbly respond to growth and updates.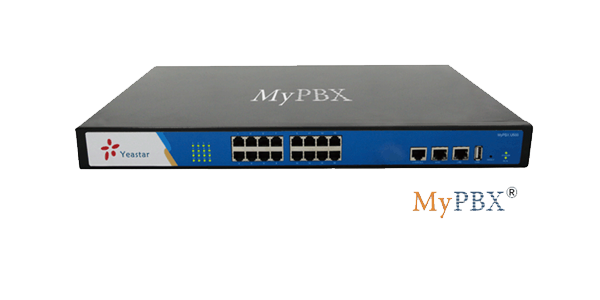 Specification
Users: 500
Concurrent Calls: 80
Voicemail: Default 3000min (upgradable)
Auto-Recording: Support
Hard Disk: Support 2.5 inch SATA2 (Optional)
Interface:
Up to 16 Analog Ports (FXO/FXS)
Up to 8 GSM Ports (Quad-Band GSM/GPRS850/900/1800/1900MHz)
Up to 8 UMTS Ports (UMTS 900/2100MHz or 850/2100MHZ or 850/1900MHZ)
Up to 8 BRI Ports
One RS232 Port
LAN: 1 (10/100/1000Mbps)
WAN: 1 (10/100/1000Mbps)
USB: 1 (USB2.0)
Size: 438x280x44 mm (1U Rack-Mount)
Weight: 3.4kg
Power Supply: AC 100-240V 50/60Hz 1.5A MAX
SIP Protocol: SIP(RFC3261), IAX2
Transport Protocol: UDP,TCP,TLS,SRTP
Codec: G.711, GSM, SPEEX, G.722, G.726, ADPCM, G.729 A, H261,
H263,H263p, H264 ,MPEG4.
DTMF: Inband, RFC2833, SIP INFO
Echo Cancellation: Supported
LED: Red for FXO/GSM/UMTS, Orange for BRI, Green for FXS
Network: Static IP, PPPoE, DHCP, Firewall, VLAN, DDNS, QoS,
DHCP Server,OpenVPN
Multiple Languages Support:
Chinese, Dutch, English, French, German, Hebrew, Korean, Italian,
Polish,Portuguese, Romanian, Russian, Spanish, Thai, Turkish
Internal Construction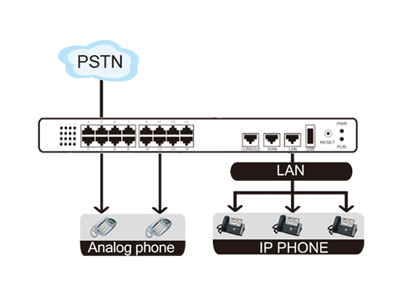 Features
Attend Transfer
Blind Transfer
BLF Support
Blacklist
Callback
CDR (Call Detail Records)
Call Forward
Call Parking
Call Recording
Call Pickup
Call Routing
Call Transfer
Call Waiting
Caller ID
Conference
Define Office Time
DDNS
Dial by Name
DISA (Direct Inward System Access)
DIDs
Distinctive Ringtone
DND (Do Not Disturb)
FAX (T.38)
Firewall
Follow Me
IVR (Interactive Voice Response)
Intercom/Zone Intercom
Mobility Extension
Multi-language Prompt
Music On Hold
Music On Transfer
MyTwins (Double System)
One touch record
OpenVPN
Phone Provisioning
PIN User ( PIN Code Control)
Paging/Zone Paging
PPPoE
Queue
Redundancy
Ring Group
Route by Caller ID
Skype Integration (Skype Connect)
SMS to Mail/Mail to SMS
Speed Dial
Three Way Calling
Voicemail
Voicemail to Email
Voicemail Forwarding
Web Based Control Panel
Spy functions (Normal Spy, Whisper Spy, Barge Spy)